God Om Ganesha on red is this week's design which I added on many products in my Zazzle store.
Have a look at Om Ganesha drawing on Photo Plaque.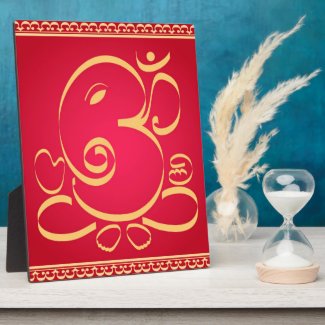 God Om Ganesha on red Photo Plaques
by
cycreation
Browse Zazzle for a different
plaque
Details of Photo Plaque - 8x10 With Easel
For a professional display without a frame get a custom display plaque! Printed with a dye-sublimation process, your image colors are put directly on the hardboard panel for a stunningly crisp image. Protected with a UV resistant gloss, your plaque will be protected from scratches and fading for years to come.
Size: 8" x 10"
Hardboard panel with UV resistant coating
Comes with attached easel stand
Easy wipe-clean surface
Click here to find 65 new products with this design .
For more God Ganesha gift items, check Indian Gods and festival -> God Ganesha category.