Moving on from butterflies and floral designs, I decided to create products with seamless patterns. I've lots of Spring and Summer colored patterns which looks good on NEW products at Zazzle.
Here is a "Pink flowers pattern" on a 15" Laptop For Mac and PC skin. This is the first skin I have created . For more details read below.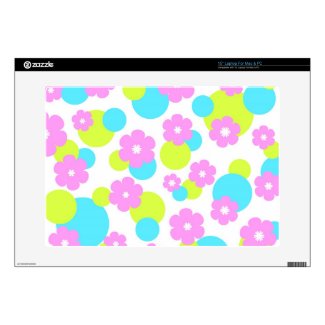 Pink flowers pattern
by
cycreation
View other
Floral Skins
15" Laptop For Mac & PC
Express your personal style and defend your device with a custom 15" Laptop For Mac & PC skin! Made of ultrathin and super-durable Avery MPI vinyl, Zazzle 15" Laptop For Mac & PC skins feature patented air release technology for a smooth, zero-bubble surface that protects your device from everyday scratches and scuffs without adding bulk. Printed and laminated with the highest quality standards and precision fitted for your 15" Laptop For Mac & PC, this custom skin will look sharp and brilliant with your designs, photos, and text.
Made in the USA - Avery MPI vinyl featuring patented air release technology.

No bulk – Seamlessly integrates with all cases, docks, arm bands, and bags.

Super tough, laminated skins protects device from scratches.

Easy peel on and off. No sticky residue.

100% satisfaction guaranteed.
This design can be found on 20 products in
Pattern Paradise -> Flowers and Florals
category.
Also added a NEW category called
Monograms
Check this pretty Sticker. These Monograms (Alphabets, Letters) are customizable. You can customize and change the Alphabet or even Font Type.
Pink flowers with "A" monogram
by
cycreation
Browse more
Monogram Stickers
Added this design to 6 products (Magnets, Keychains, etc) to category

Monograms